Sixteen Piece Orchestra Wedding in Aspen
I was so happy when Virginia contacted me to perform at this wedding.
I've always wanted to book a wedding in Aspen! I've visited Aspen several times on snowboarding or camping trips, but never to perform. From the moment I arrived in Colorado with my fifteen musicians I recruited from different parts of the states – this was epic and a perfect show!
Our sixteen-piece string orchestra serenaded this wedding…
Virginia is a wedding planner and the owner of a wedding planning firm called, Bluebird Productions which is based in Snowmass, a small village near Aspen. She has a beautiful office that is surrounded by nature in her guest house. When I had my first meeting with her, I remember thinking to myself, "What a beautiful place to work and live!" An aspect I've enjoyed most about my profession is having the opportunity to travel to beautiful destinations and meet new people from the wedding industry. They are always so proud and excited about their location that one cannot help but fall in love with the place as well!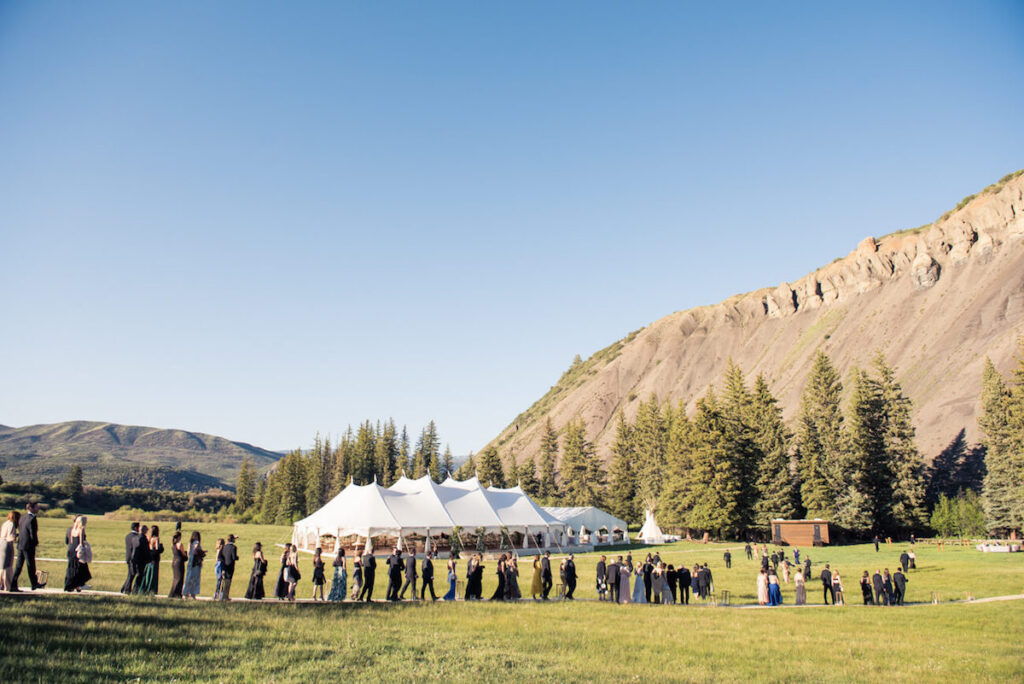 This wedding was impressive. A large tent was erected in the middle of a valley – it was like a painting. I couldn't believe my eyes when I arrived… plus the weather that day was perfect to be in a tuxedo!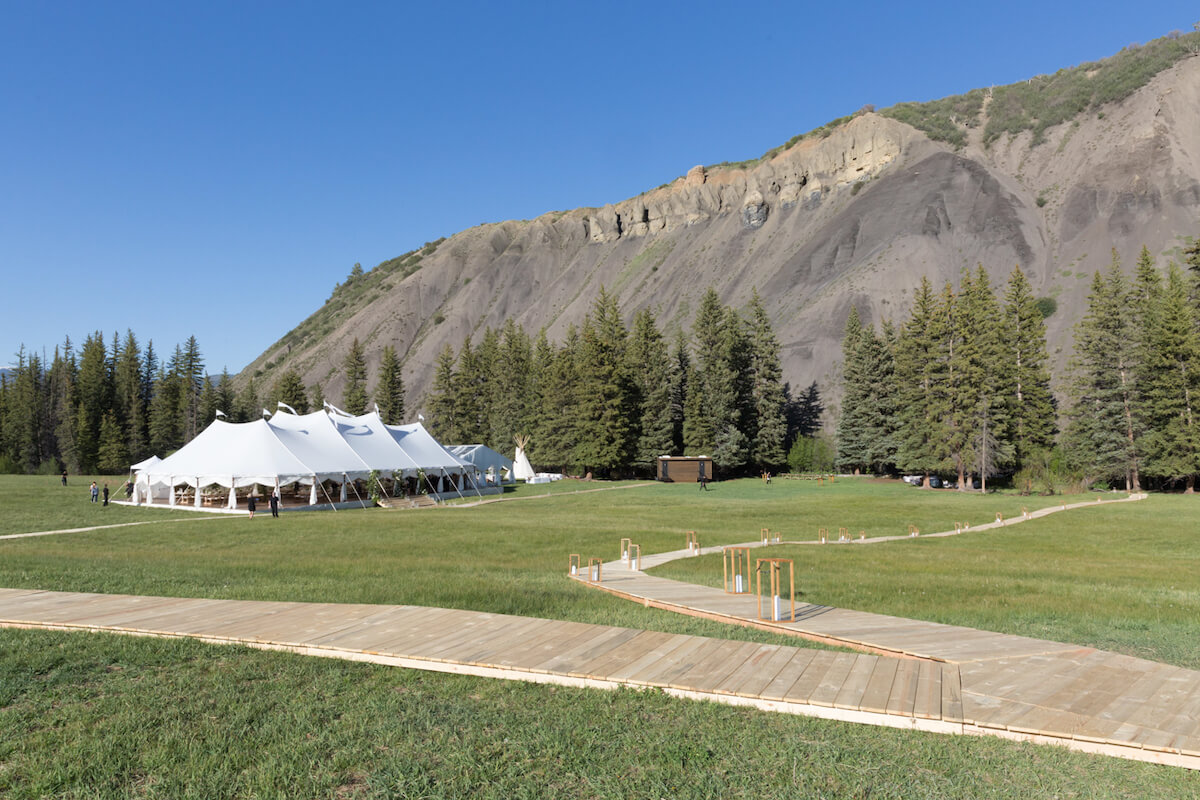 Virginia's team flawlessly executed this wedding without missing a detail. They even built a wooden path for the guest to be able to walk from the open-air ceremony to the reception tent. I'm sure all the ladies in their high heels were thankful for this and we even felt like royalty walking on it!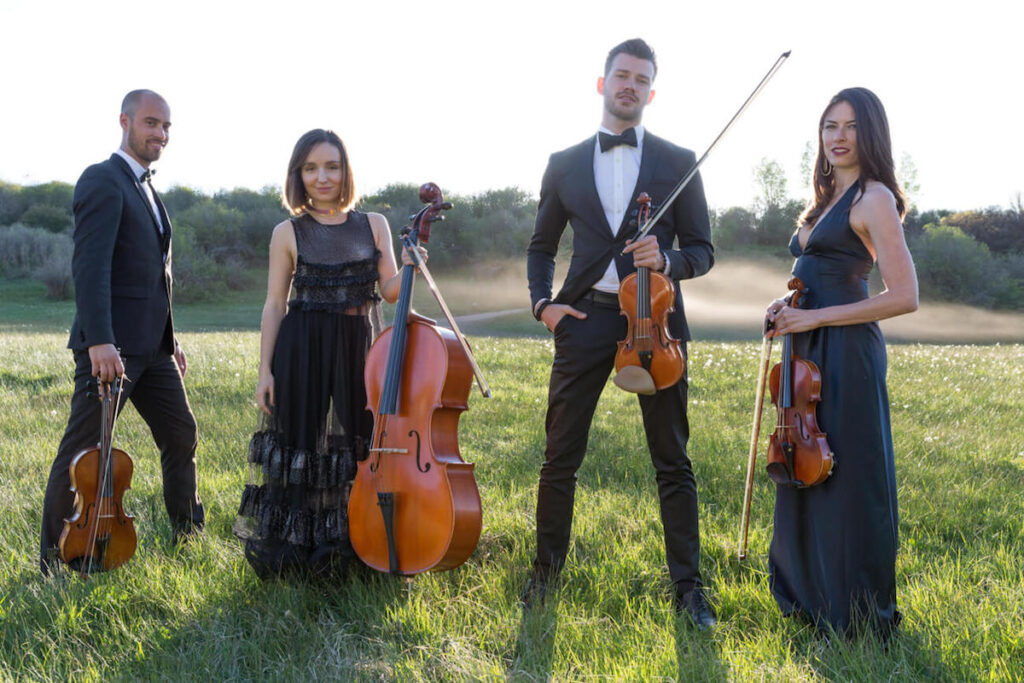 The Wedding Ceremony
During the wedding ceremony, we performed as a five-piece ensemble (string quartet with trumpet player). 
The ceremony music selection was even unique. For the grandparents, we played "All of My Love" by Led Zeppelin; for the groom and his parents "At Last" by Etta James; "In My Place" by Coldplay for the bridesmaids. For the bride…she walked with her parents down the aisle with "Helplessly Hoping" by Crosby, Stills & Nash. I remember saying to myself, "Such a beautiful song for this mountain scenery". As the recessional song, we played "Signed, Sealed, Delivered" by Stevie Wonder. I must admit that having this song performed while they were walking out created a very festive vibe to all the guests and it certainly kept the celebration going. My clients are very important to me and when collaborating it's very important that I help them select music that is special to them because I know it will play a key roll in their magic moment. It may sound overly sentimental, but music has the power to build emotions in guests and create unforgettable memories.
Something that I've found very different and original was that the bridesmaids were wearing beautiful and colorful dresses…almost like flowers from the field. pretty cool.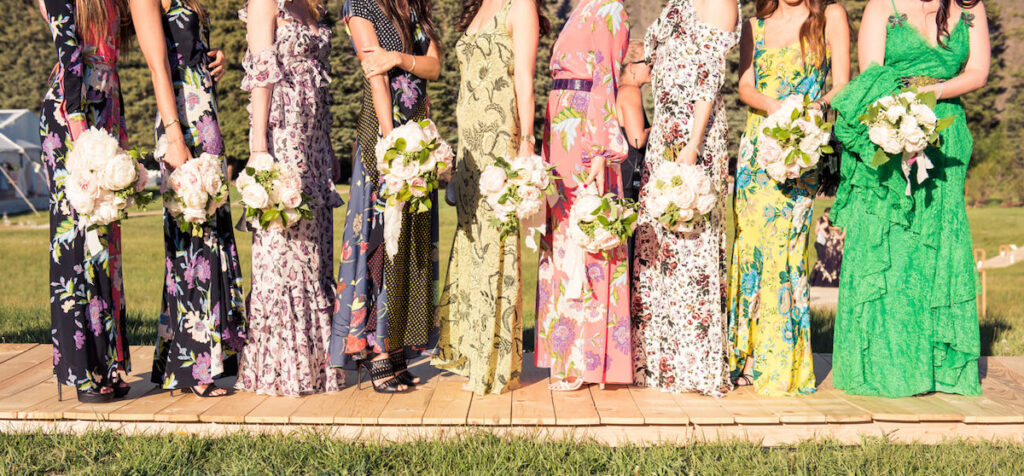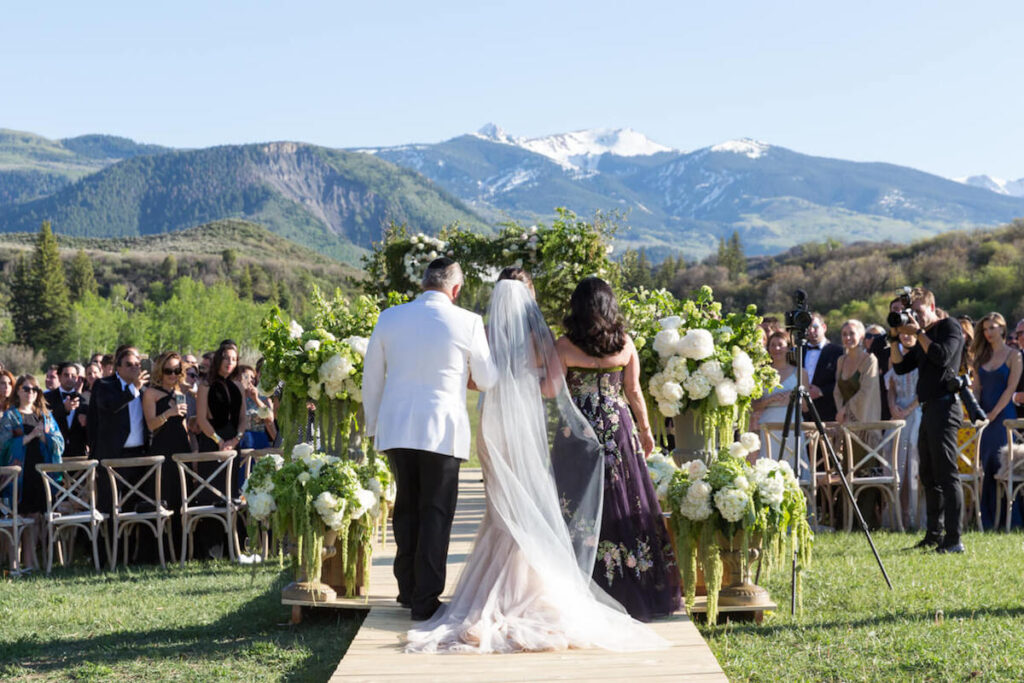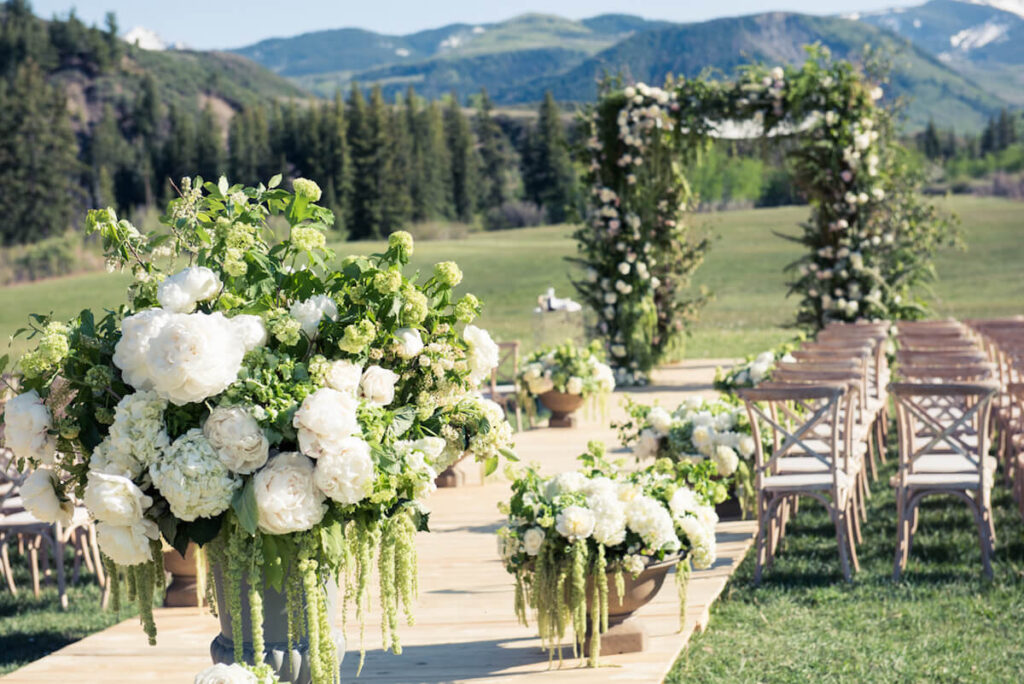 The ceremony decoration was stunning and the natural green from the valley was breathtaking with some white touches of flowers – very elegant. After the ceremony was over and during cocktail hour, guests were having hors d'oeuvres and champagne by the creek, so we were lucky and had time for a quick photoshoot with Jake Rosenberg (photographer). The sunset was perfect!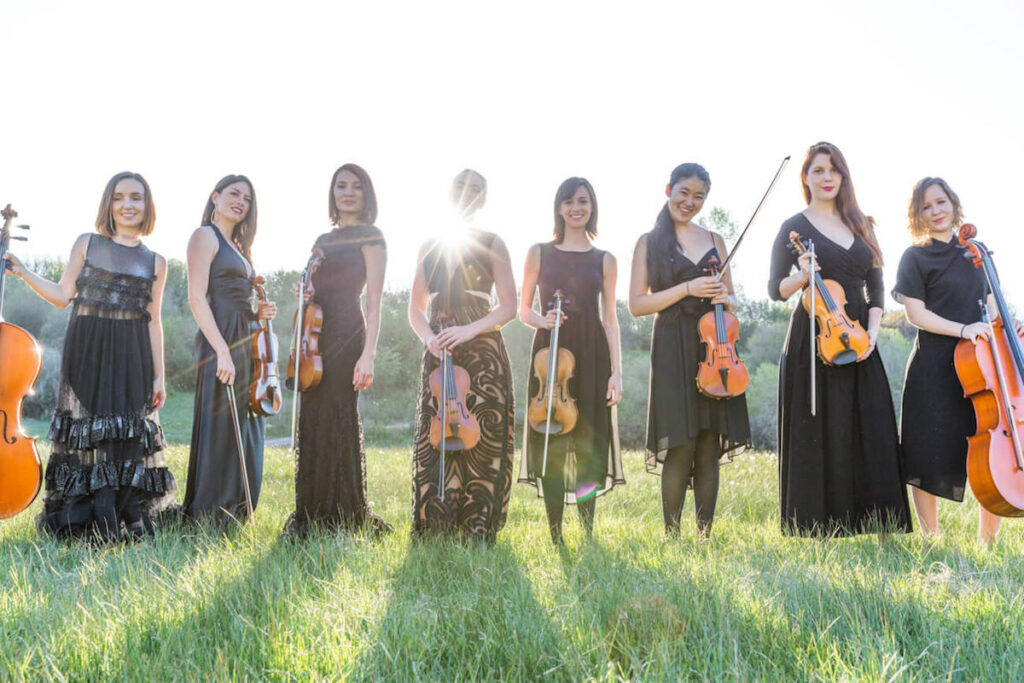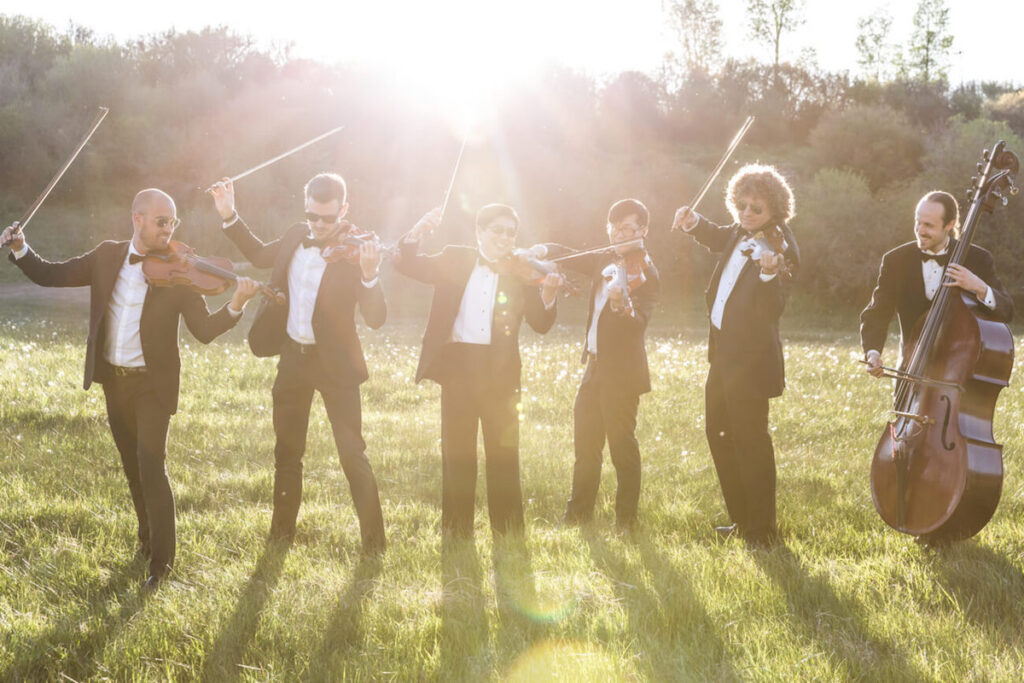 I know, I know, but I loved this tent! It was quite spectacular. I don't know why, but for some reason, I love wedding tents with flags. It was surreal to see this structure in the middle of nowhere. This big white structure juxtaposed by all of that green! The sunset hour made everything glow and the energy of the place one can truly say "Love was in the air"…  The beautiful wedding cake was made by Megan Joy, and it had the texture of a multilayer dress plus the sweet smell was so good!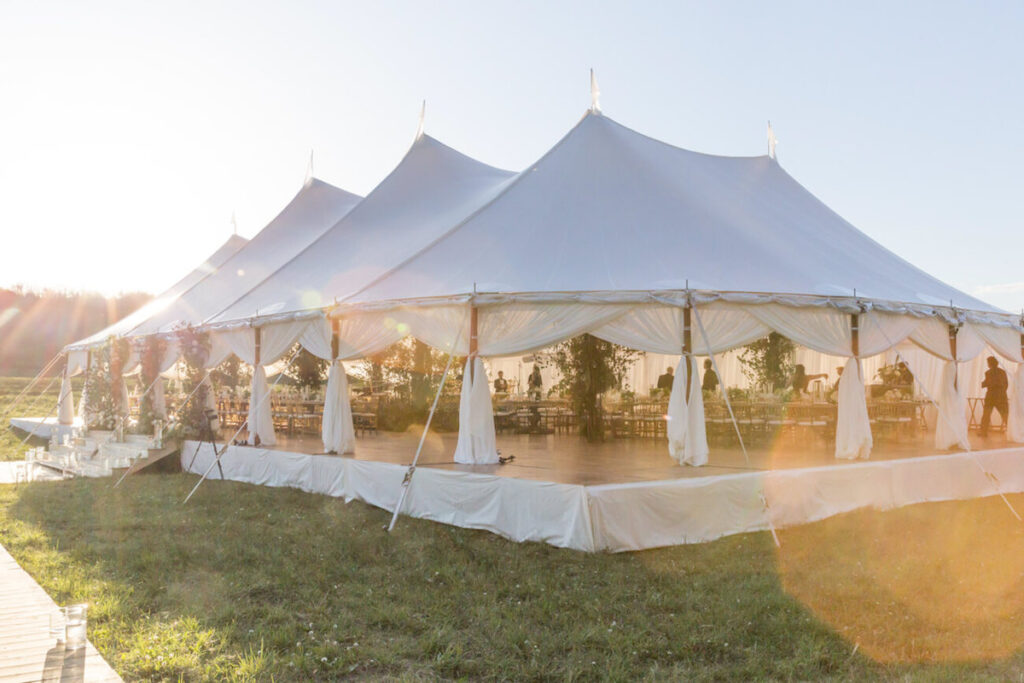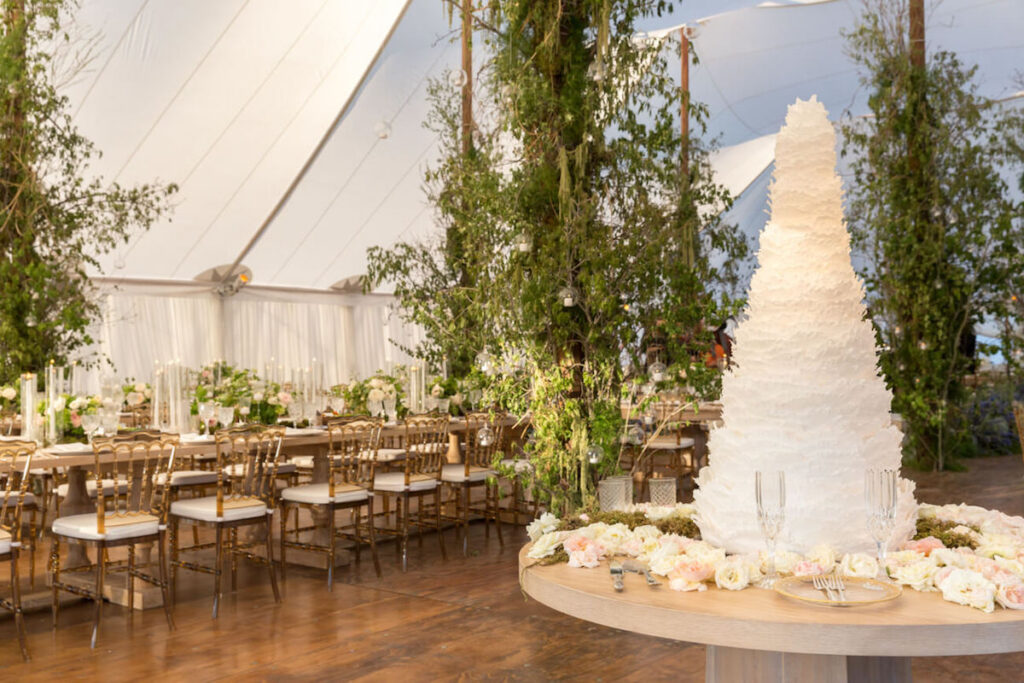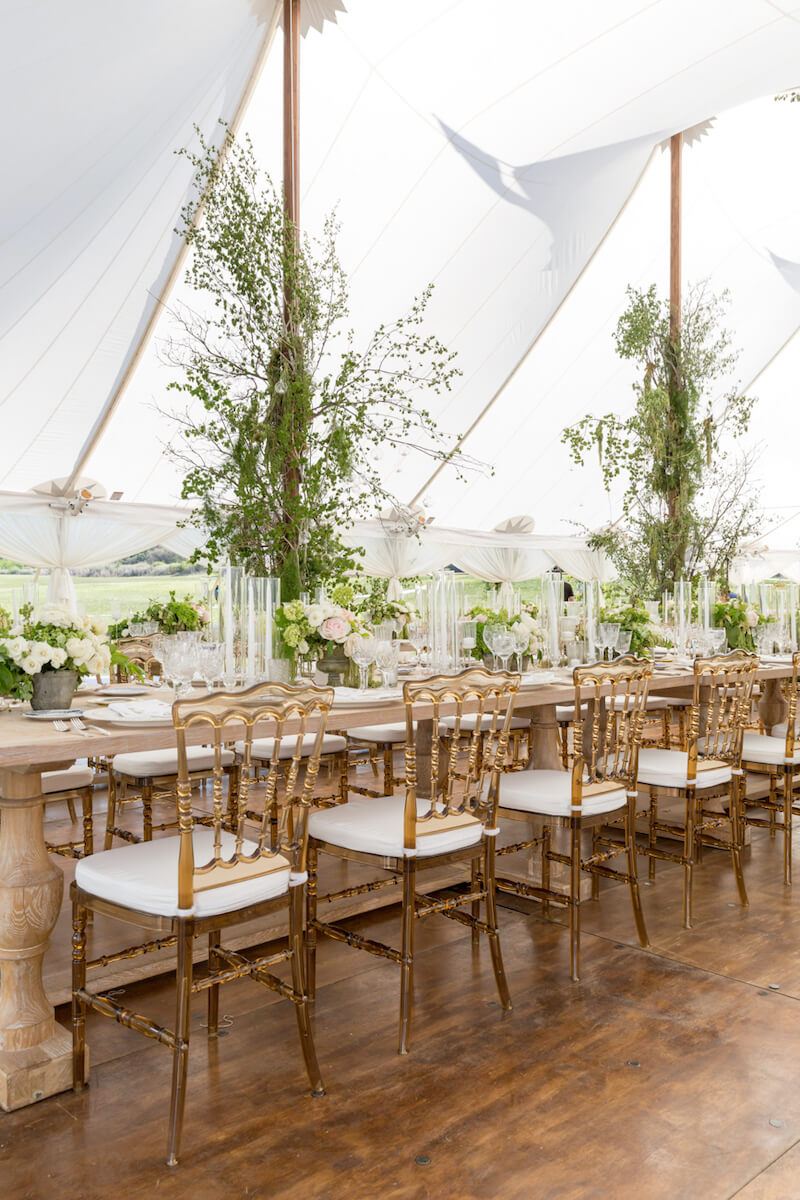 The Wedding Reception
The inside of the tent was finished in very subtle tones with different woods and greens – it felt like an outdoor garden somehow, but organized inside of a tent. Aspen is beautiful during summer with flowers you can enjoy by walking on the streets. This party had the same feeling… the orchestra had a stage that was built in the middle of the dining room surrounded by a natural garden of planted flowers. Because we didn't want to turn our backs to any of the wedding guests, we decided to sit in a circle. For us, it was the first time performing in this position. Pretty unusual for the seating position of an orchestra. We were able to do this and not worry about the acoustics because we were using microphones and the sound distribution was done with different monitors and speakers. You can't achieve this with a regular orchestra seating configuration in a concert hall. What an experience! Also, the musicians really enjoyed seeing each other while performing face to face.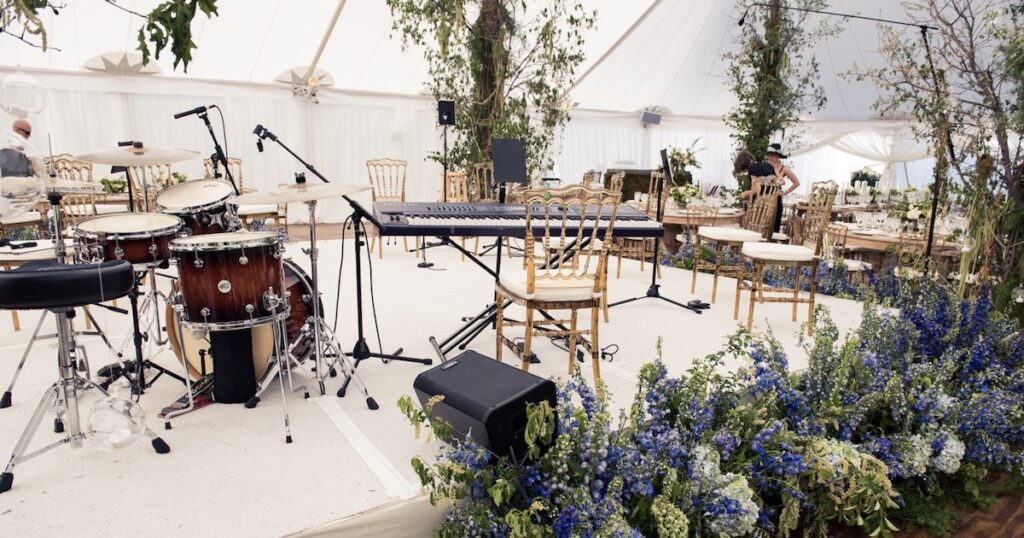 The dinner music set started with "The Bittersweet Symphony" by The Verve. I like starting sets with this song – you can never go wrong with it. It's a great song to start the evening and welcome guests while they are being seated before dinner. The orchestra played a two-hour set of pop songs during dinner service and some guests were dancing in between courses. For this wedding, we prepared some pretty awesome music arrangements including songs by Lady Gaga, Britney Spears, Elton John, Sting, Michael Jackson, Guns N' Roses, and Lana Del Rey to name a few trendy artists.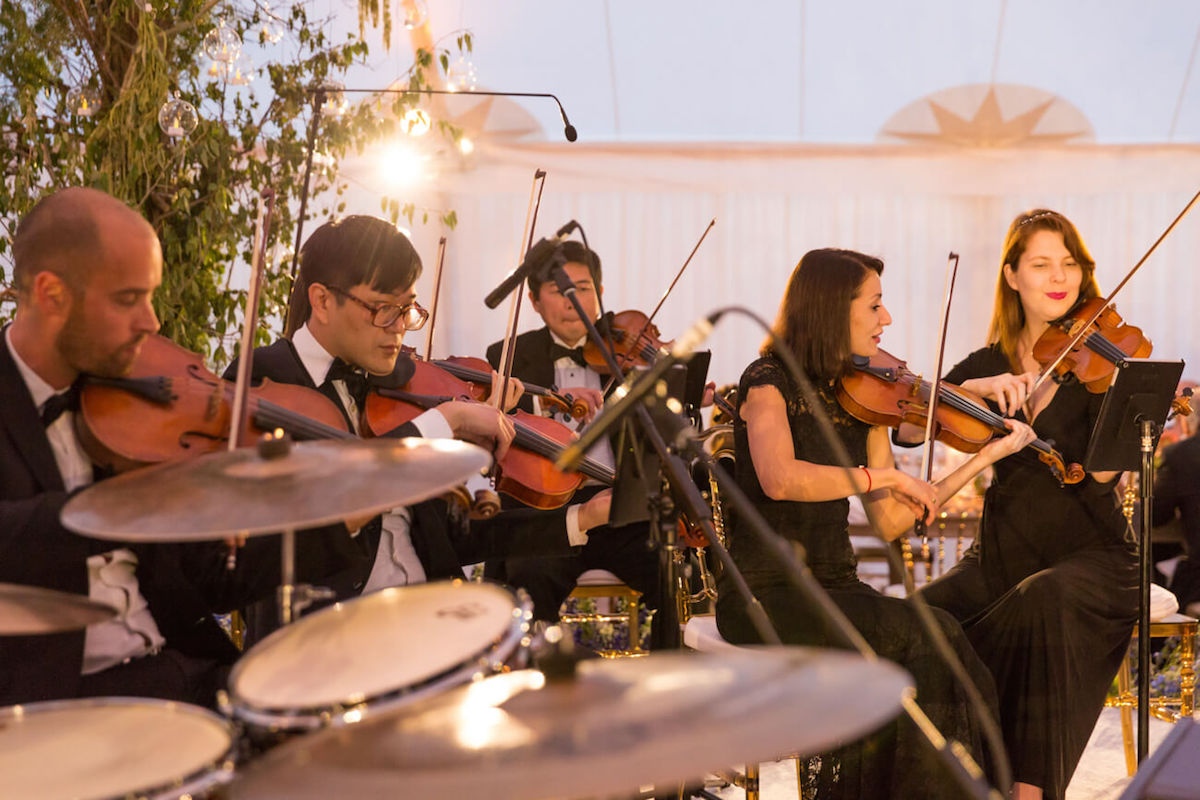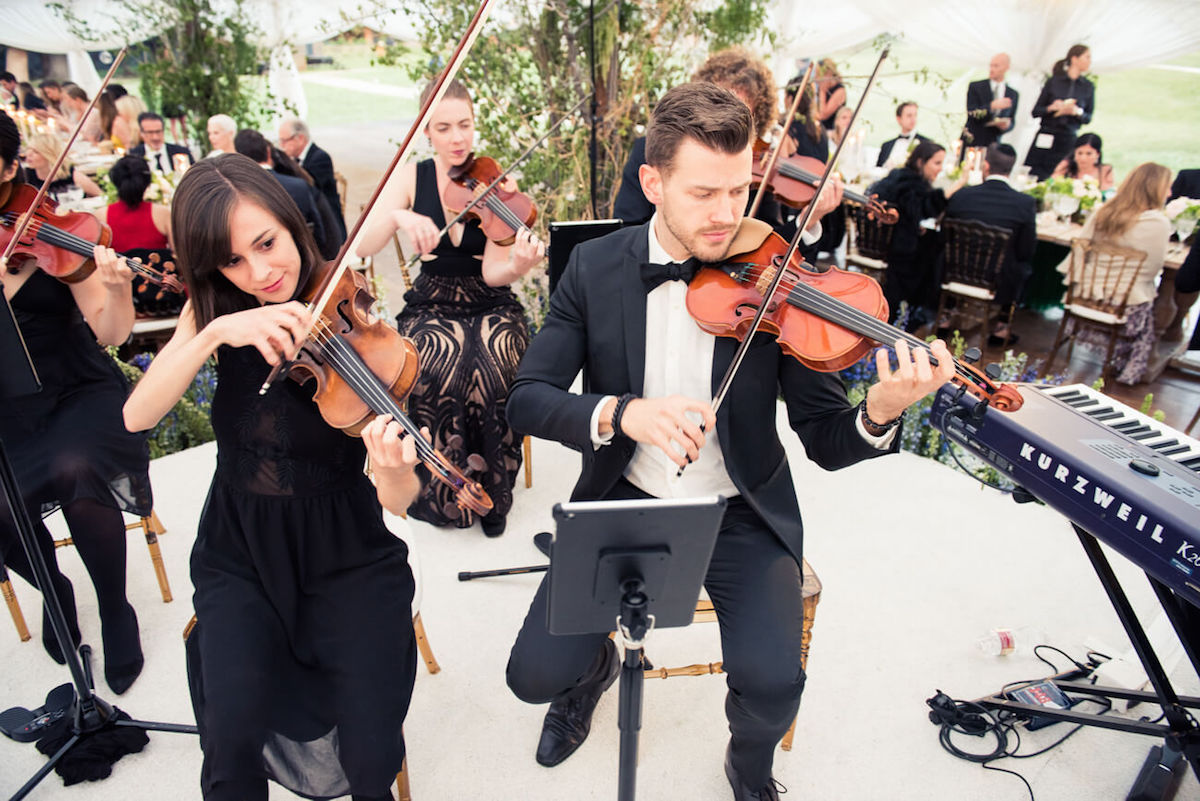 Right after dinner, the party continued as guests merged to a different tent and started dancing with DJ Zen Freeman.  The dancing tent was incredible and it felt like a club: the lights, the sound, the decoration – the guests were dancing all night long … was truly a beautiful and well-planned wedding. And if you don't believe me, I'll let the pictures do the talking…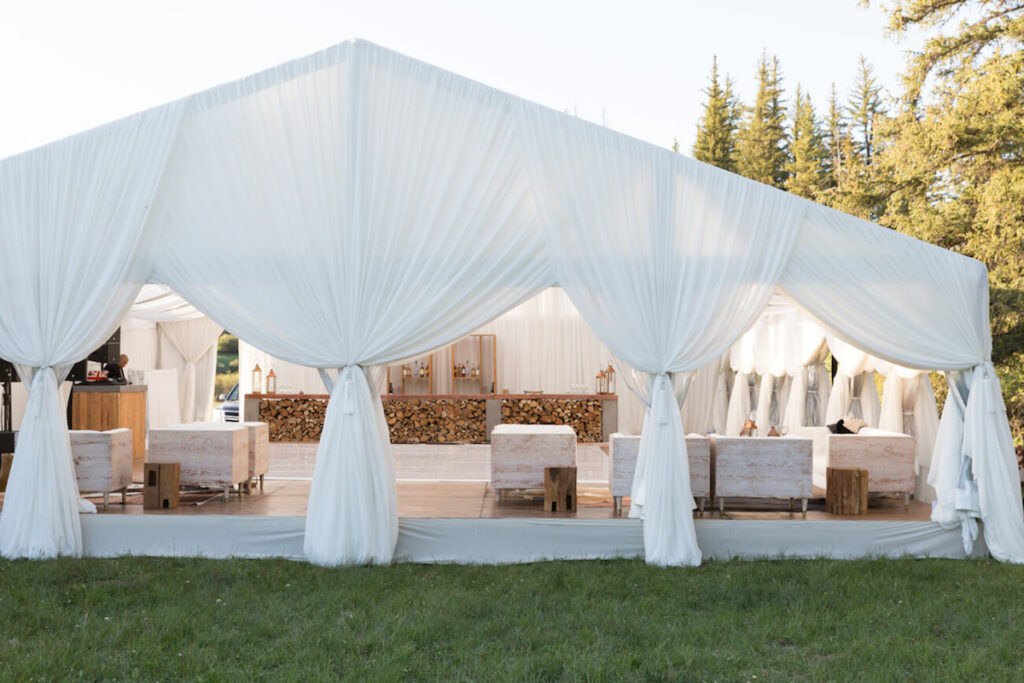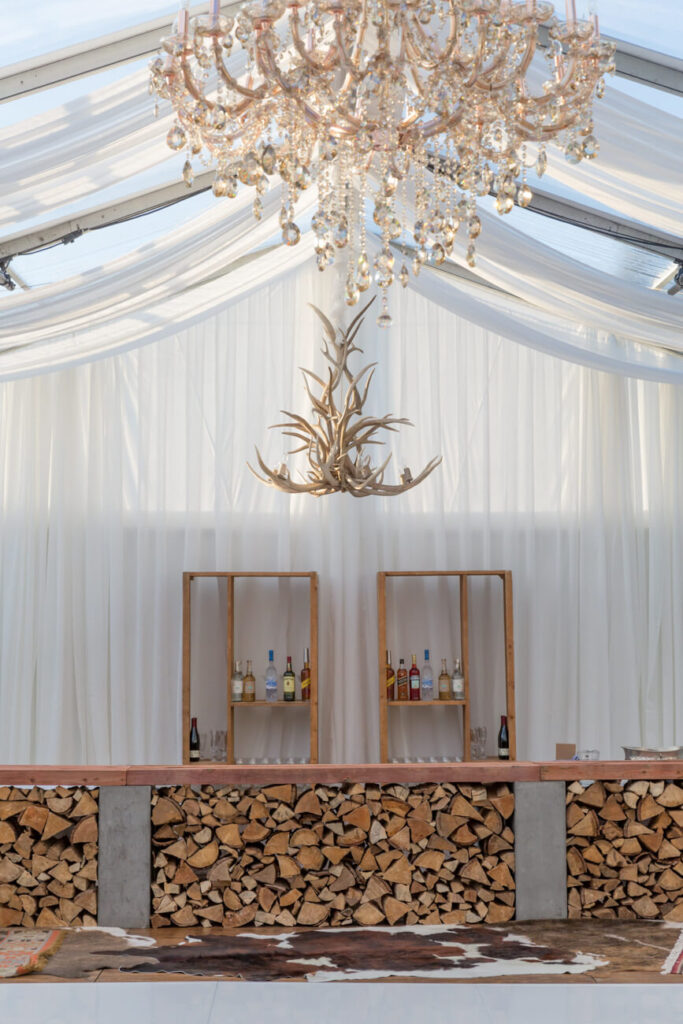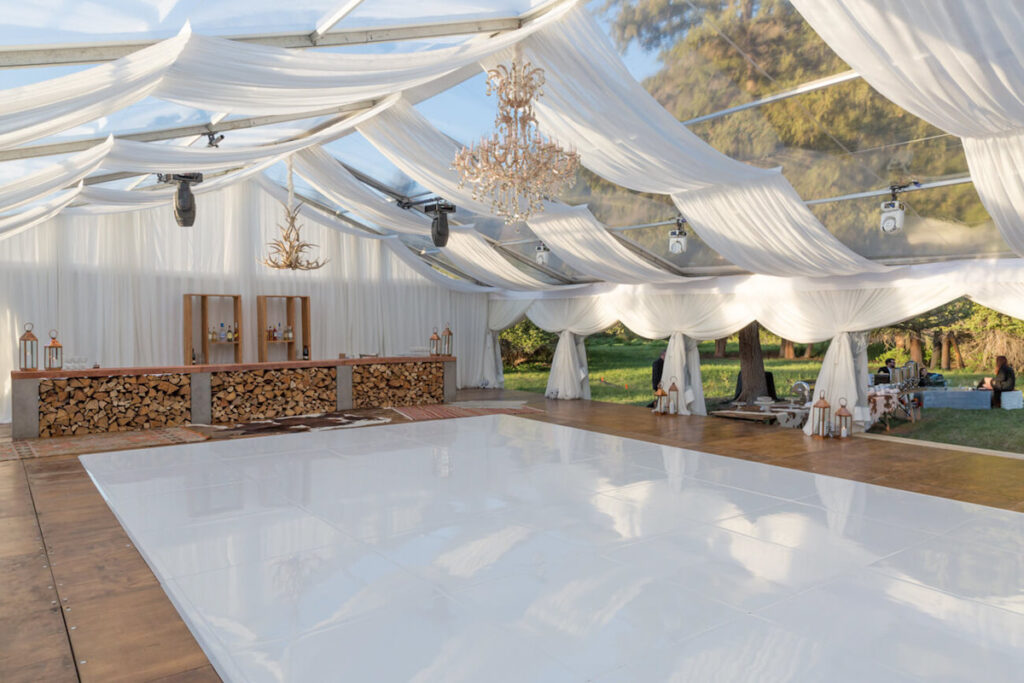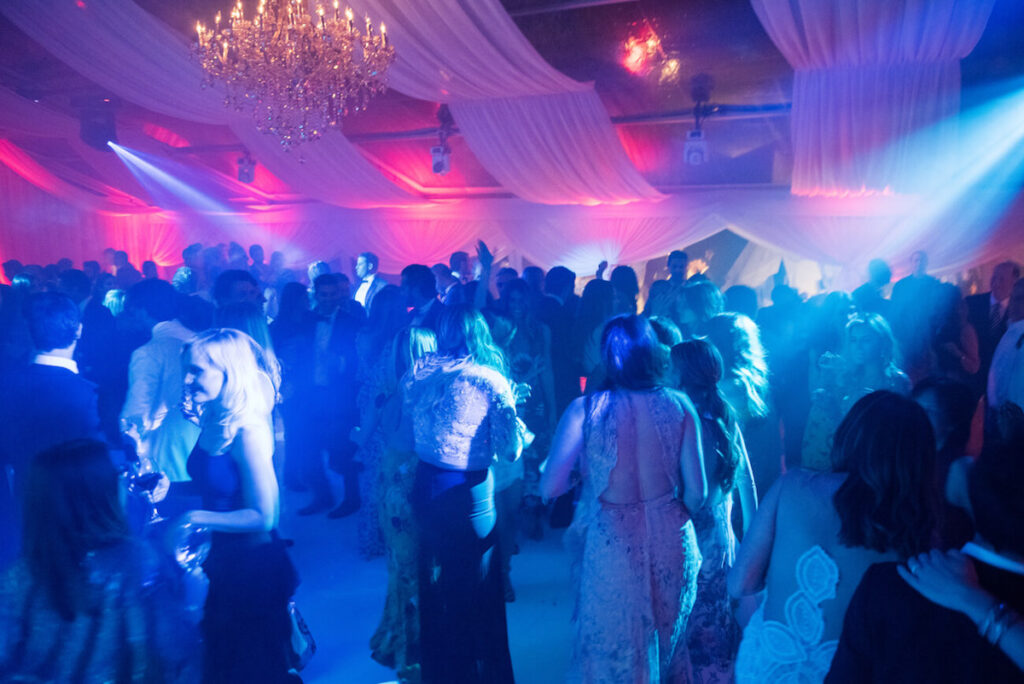 And that's all! Aspen, I hope to be back very soon!
Thanks for reading my blog. I hope you enjoyed all these photos and videos.
Cheers! Peter